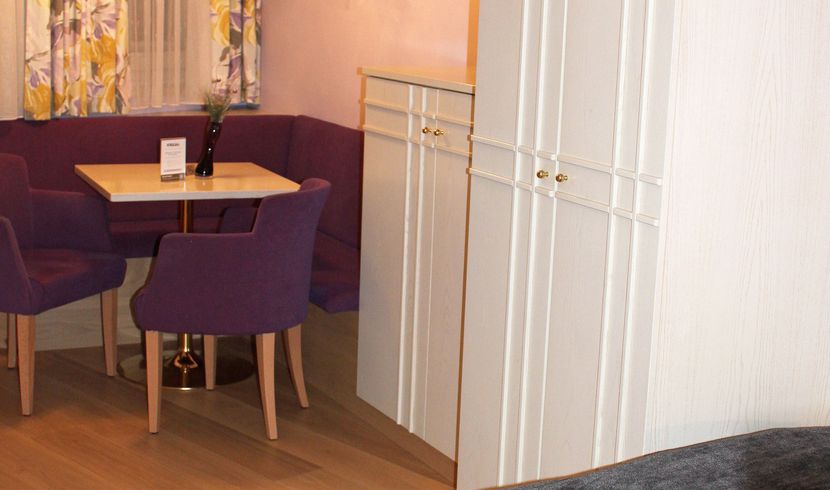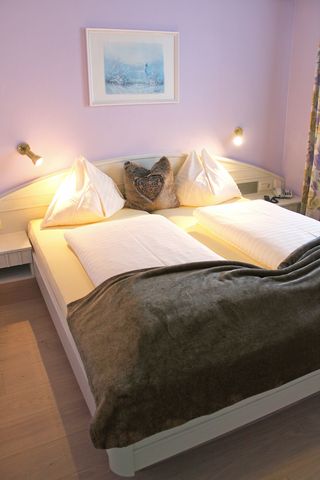 The room ...
Look forward to cosy beds in both rooms, your lounge area, a bathroom with a tub, separate toilet, hair dryer & make-up mirror for that closer look, a desk, a Nespresso coffee machine for your daily kick (electric kettle available upon request), a safe for your valuables & a phone to stay in contact with the outside world as well as two flat TVs (with Full HD) incl. Sky & radio. Your Wi-Fi is always free.
View
View to the side or the sunny side, with balcony, in a calm neighborhood.
Prices
Per person, including rich breakfast buffet (no cooking facilities), in EURO (€), excluding € 2,- local tax per person and day (from the age of 15 years).
Additional bed and children reductions on request.
Floor plan on the right is one example of four different hotelapartments Typ 1!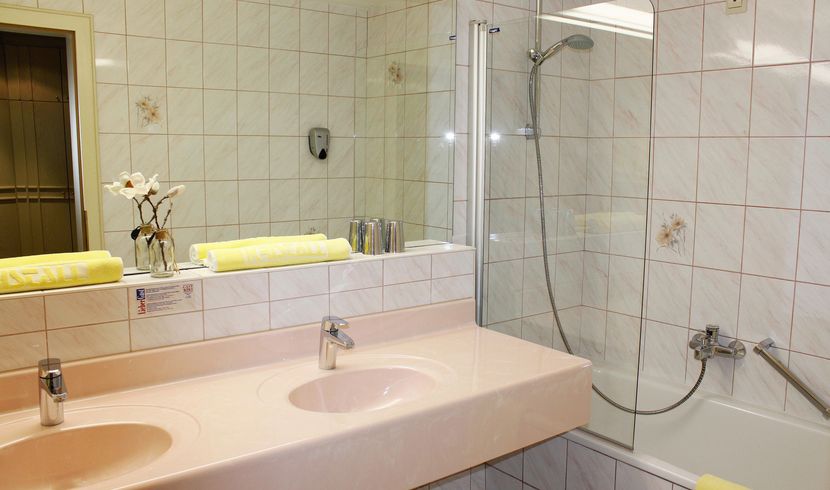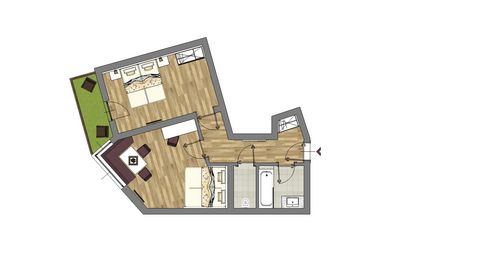 Winter 2021/22
Ski-Fit Weeks* &
Opening
24.11. - 25.12.2021
Christmas & New Year´s Eve
25.12.2021 - 08.01.2022
Powder Weeks*
08.01. - 29.01.2022
Family- & Snowtime Weeks,
Holy Week
29.01. - 19.03.2022
09.04. - 16.04.2022
Sun & Fun Weeks*
19.03. - 09.04.2022
16.04. - 24.04.2022
1. + 2. Pers
3.
Pers
4.
Pers
1. + 2.
Pers
3.
Pers
4.
Pers
1. +
2.
Pers
3.
Pers
4.
Pers
1. + 2.
Pers
3.
Pers
4.
Pers
1. + 2.
Pers

3.
Pers

4.
Pers
each 93,-
+69,-
+69,-
each 101,-
+71,-
+67,-
each 93,-
+69,-
+69,-
each 101,-
+71,-
+67,-
each 93,-
+69,-
+69,-
* Lift tickets rebate (in the weeks marked with *, except from March 19.03. - 26.03.2022): 6 days ( € 237,- ) / 7 days ( € 266,00 ) - regular ticket prices